apps
Trash Can Nachos
Stacked corn chips layered with queso, corn and black bean pico, salsa and guacamole. Add protein for $4 (chicken, pork, beef) serves 2-4 people
$12
Chip & Dip
Tortilla chips with our house chili, queso, and roasted salsa
$11
Hillbilly Meat Board
charred spam, grilled ribeye and fried bologna, served with cheddar and mozzarella cheese
$16
Kobe Beef Corn Dogz
Twin jumbo kobe hot dogs, hand dipped in house cornmeal batter, server with yellow mustard
$9
Bologna Sliders
3 toasted Hawaiian rolls with pan fried bologna and miracle whip
$7
Prime Rib Quesadilla
Giant jalapeno tortilla stuffed with chili rubbed beef & provolone cheese, served with pico de gallo, creamy horseradish, and au jus for dunking.
$14
Buffalo Chicken Egg Rolls
Shredded buffalo chicken wrapped in won ton papers, fried, served with house fontina cheese & ranch for dipping.
$9
Ahi Lettuce Wraps
Sashimi grade tuna with pan searched with white and black sesame and togarashi, with crunchy kale greens, fried won ton strips, and spicy hoisin dressing,
$12
Randy's Version of Wings
Choice of dry rub, BBQ, or buffalo glazed drum sticks with 5 pieces per order
$11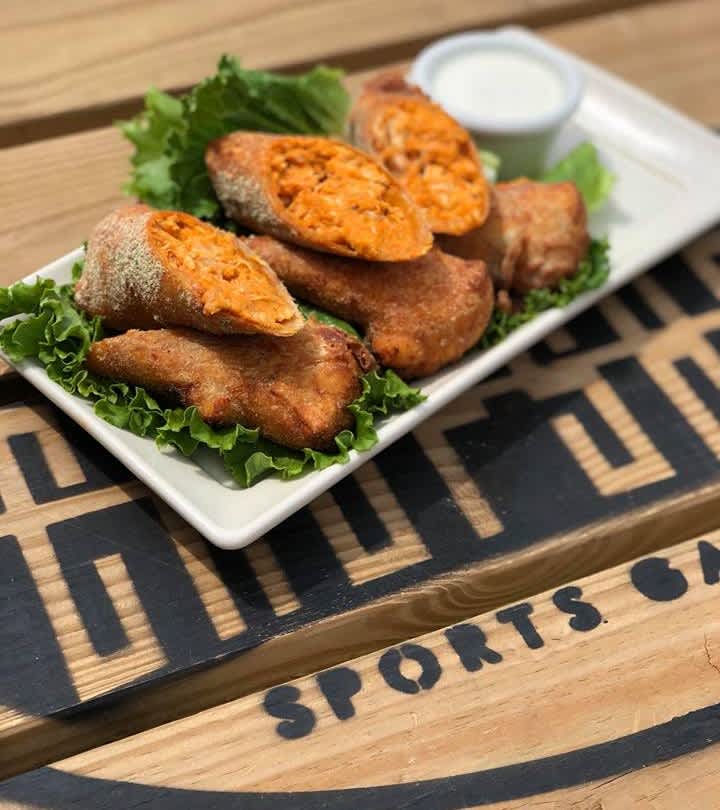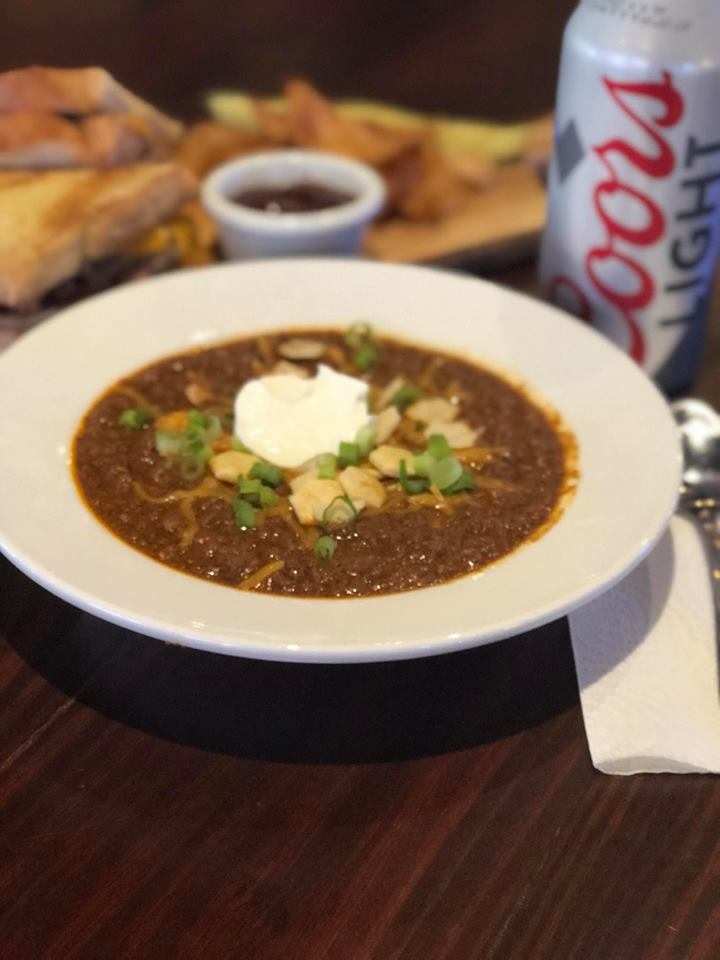 Chef Lee's Chili
Our house made chili topped with cheddar cheese, green onion, sour cream and a mound of oyster crackers
Soup of the Day
Inquire with your server for the day's selection
Greens
Texas Caesar
Romaine lettuce tossed in our house Caesar dressing, roasted corn, black beans, topped with a Parmesan crisp. Add chicken for $4
$9
Roanoke Strawberry & Goat Cheese
baby leaf greens and spinach, fresh strawberries, farm raised goat cheese tossed with our house white balsamic vinaigrette. Add chicken $4
$12
Fried Chicken Cobb
House greens with roma tomatoes, smoked bacon, avocados, cucumbers, hard boiled eggs, red onions, and cheddar cheese tossed with an avocado ranch.
$13
Togarashi Sesame Tuna
Sushi grade ahi tuna, crusted with white and black sesame seeds, togarashi, pan seared with crunchy kale greens, crispy won ton strips, avocados, roma tomatoes, and cucumbers tossed with in a hoisin vinaigrette.
$16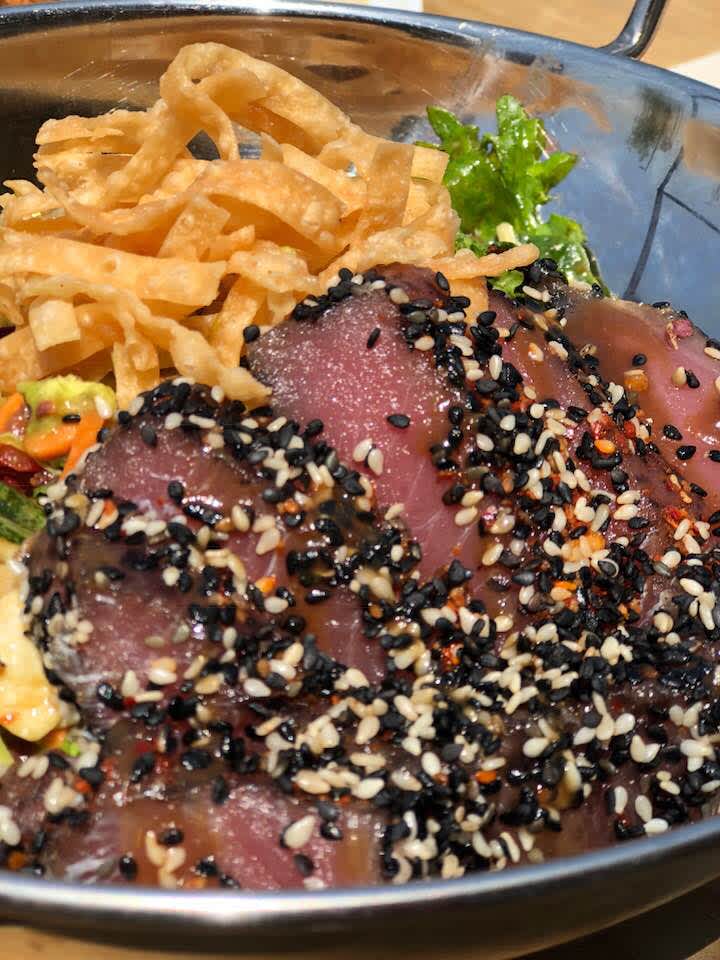 undefined
Sides come ala cart for all burgers and sandwiches
Kennebec French Fries $4
Steam Broccoli $4
Smashed Potatoes & Gravy $4
Broccoli with Cheese Sauce $5
House Made Potato Chips $3
House Salad $4
Caesar Salad $4
Burr-Gurr
Feeling extra hungry? Make it a double, add a patty $4. Add chili for $1First three burgers are served with lettuce, tomato, onions & pickle
Randy's El Camino
6oz buger with candied jalapeno bacon, pepper jack, crispy onion ring, and chop sauce on a potato bun
$9
Old School
beef patty with american cheese and our chop sauce served on a potato bun.
$8
The Fatty
Grilled beef topped with fried bologna, pulled pork, pepper jack cheese and chipotle bbq sauce served on a potato bun
$10
Buick
Caramelized onions, mushrooms and swiss cheese top this burger with, our chop sauce and served on toasted sourdough.
$9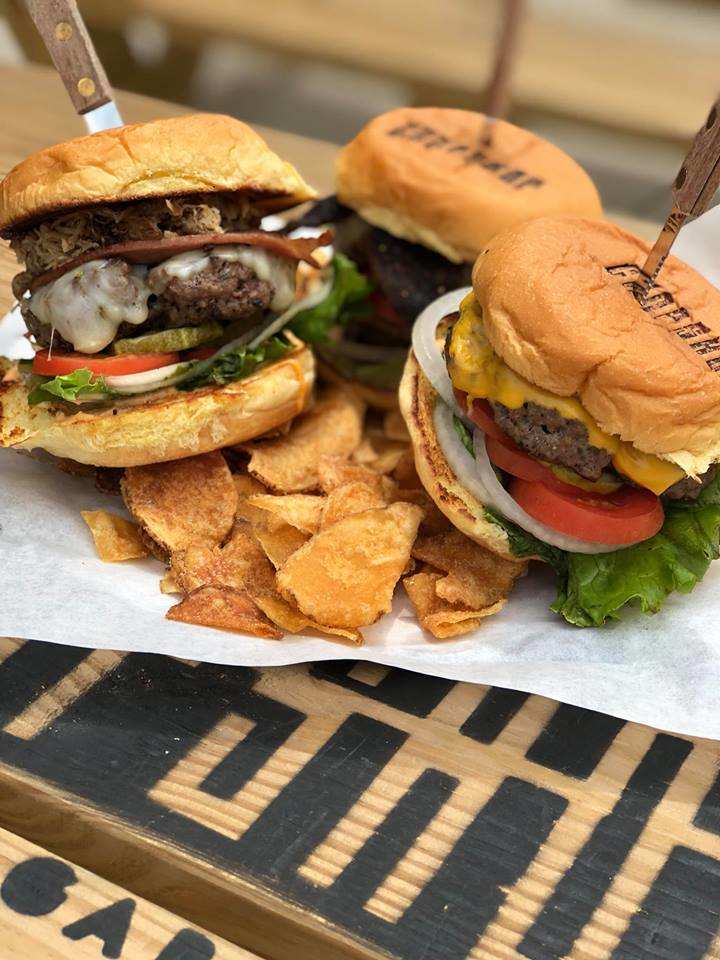 Sammy's/Mains
Crispy Yard Bird
Buttermilk fried chicken breast with our blue cheese cole slaw.
$8
Sean's Ribeye
Marinated grilled steak, with caramelized onions and green pepper, with chop sauce and horseradish on a hoagie bun
$12
Cajun Fried Turkey
Roasted turkey breast, swiss cheese, smoked bacon and avocado ranch on a croissant bun
$10
Havana Grilled Cheese
Grilled sourdough bread with pulled pork, smoked ham, provolone, cheddar, pickles and house mustard and bbq sauce for double dunkin.
$10
Salmon BTL
Fresh Atlantic salmon on croissant bun with smoked bacon, lettuce, tomato and our chop sauce.
$14
Enchilada Stack
Pulled chicken enchiladas stacked and covered with queso, corn and black bean pico and crispy tortilla strips
$13
"Sort Of" Healthy Salmon
Grilled with charred jalapeno butter and steamed broccoli
$16
Chicken Fried Ribeye
Buttermilk marinated steak, crispy fried and laced with brown gravy.
$18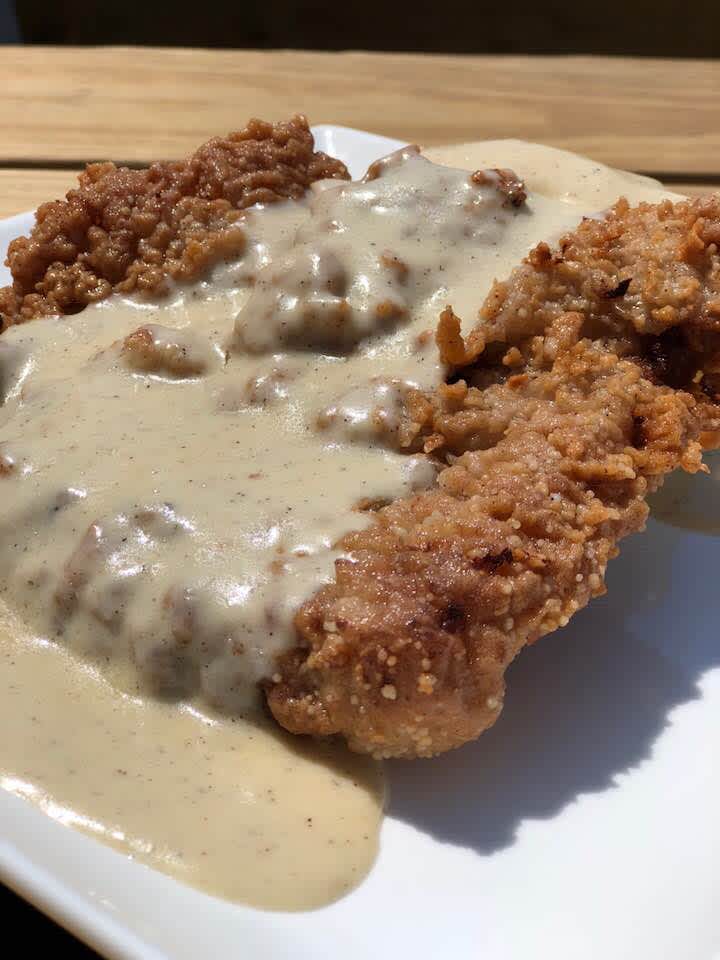 Bud Light $5.50
Michelob Ultra $5.50
Dallas Blonde $6
Deep Ellum IPA $7
Miller Lite $5.50
Dos XX $6.00
Shiner $6
Modelo Especial $6.50
Revolver Blood & Honey $7
Revolver Full Tang IPA $7
Leinekugel Summer Shandy $6
Stella $6.50
Angry Orchard $6
Rahr Texas Red $6
Sam Adams Seasonal $6.50
Coors Light $6.50
PBR $4.50
Lonestar $4.50
Blue Moon $6
Blue Moon Seasonal $6
4 Corner Local Buzz $6
Bells 2 Hearted IPA $7
Peticolas Velvet Hammer $7
Peticolas Seaonal $7
Lakewood Temptress $7
Shiner Seasonal $6.50
Firestone 805 $7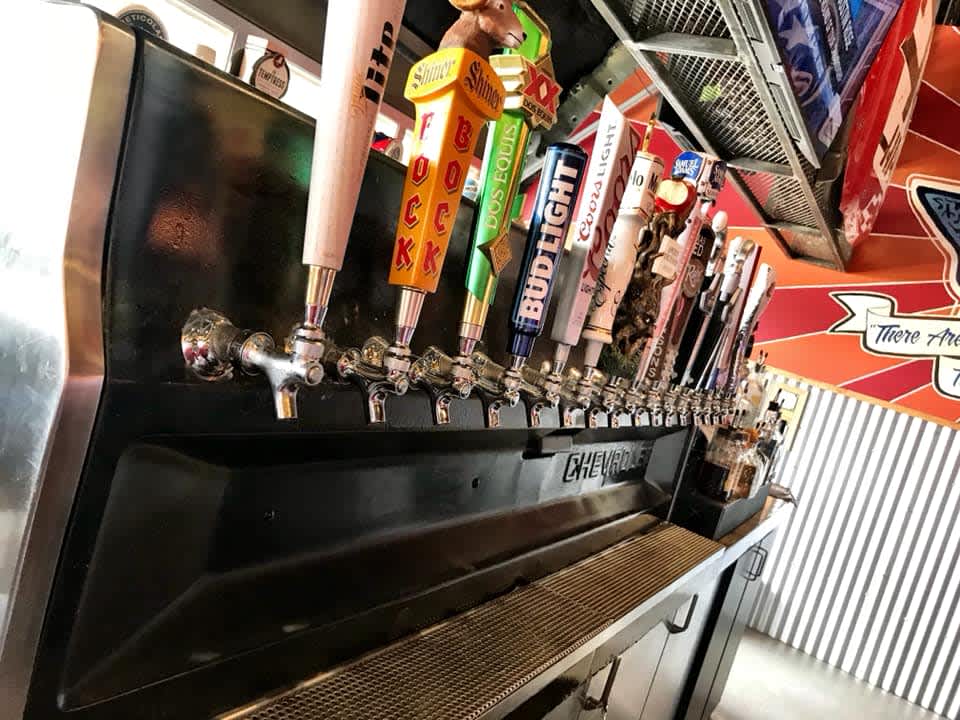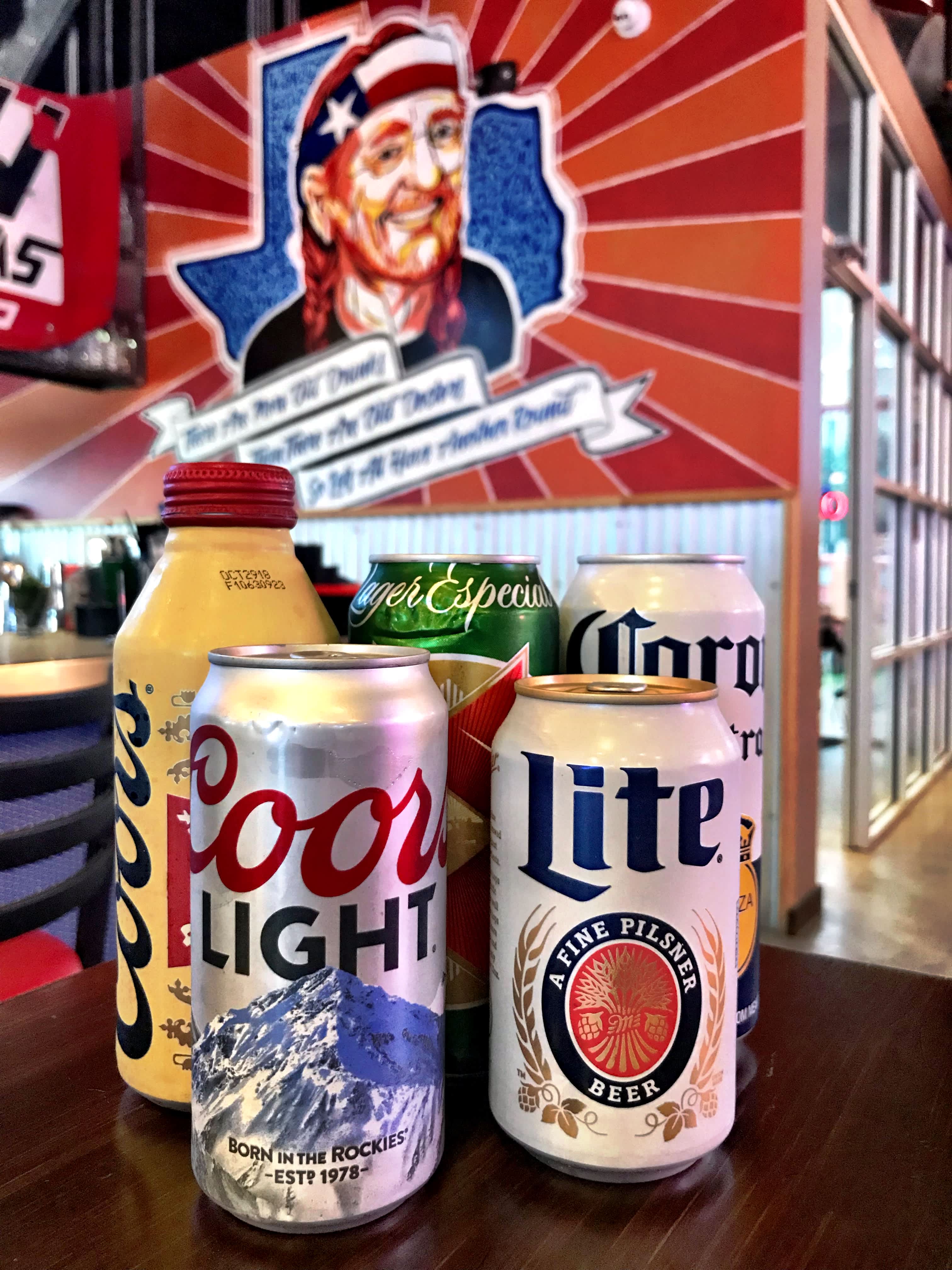 Cans
Bud Light $5.50
Michelob Ultra $5.50
Lakewood Temptress $6
4 Corners Block Party $5.50
4 Corner Local Buzz $5.50
4 Corners El Chingon $6
Saint Arnold Seasonal $5.50
Miller Lite $5.50
Dos XX $5.50
Shiner $5.50
Modelo Especial $6
Angry Orchard $5.50
Pilsner Urquell $6
Stella $6
Guinness $6.50
Fosters $7.50
Peroni $6
Rahr Ugly Pug $6
Sol $5.50
Corona $5.50
Shannon Blonde $5.50
Shannon Pussywillow $5.50
Coors Light $5.50
Coors Banquet $5.50
Blue Moon $6
Blue Moon Seasonal $6
Lonestar $4.50
PBR $4.50
Austin East Cider $5
Ballast Point Sculpin $6.50
Redds Apple Ale $5.50
New Belgium Voodoo Ranger IPA $6
Bells Hearted IPA $6
Armadillo Greenbelt Farmhouse Ale $6
Signature Cocktails
Eleanor
Buttered Jim Beam bourbon old fashioned
$7
Lightning McQueen
Stoli Orange vodka, cranberry, redbull
$8
Smoky and the Bandit
Angry Orchard cider, 2 Gingers Irish Whiskey
$8
Mustang Sally
Smirnoff Sourberry Lemon vodka, cranberry, sprite
$6
Goldfinger
Stoli peach vodka, peach schnapps, lemonda, tea
$6
Easy Rider
white summertime sangria
$7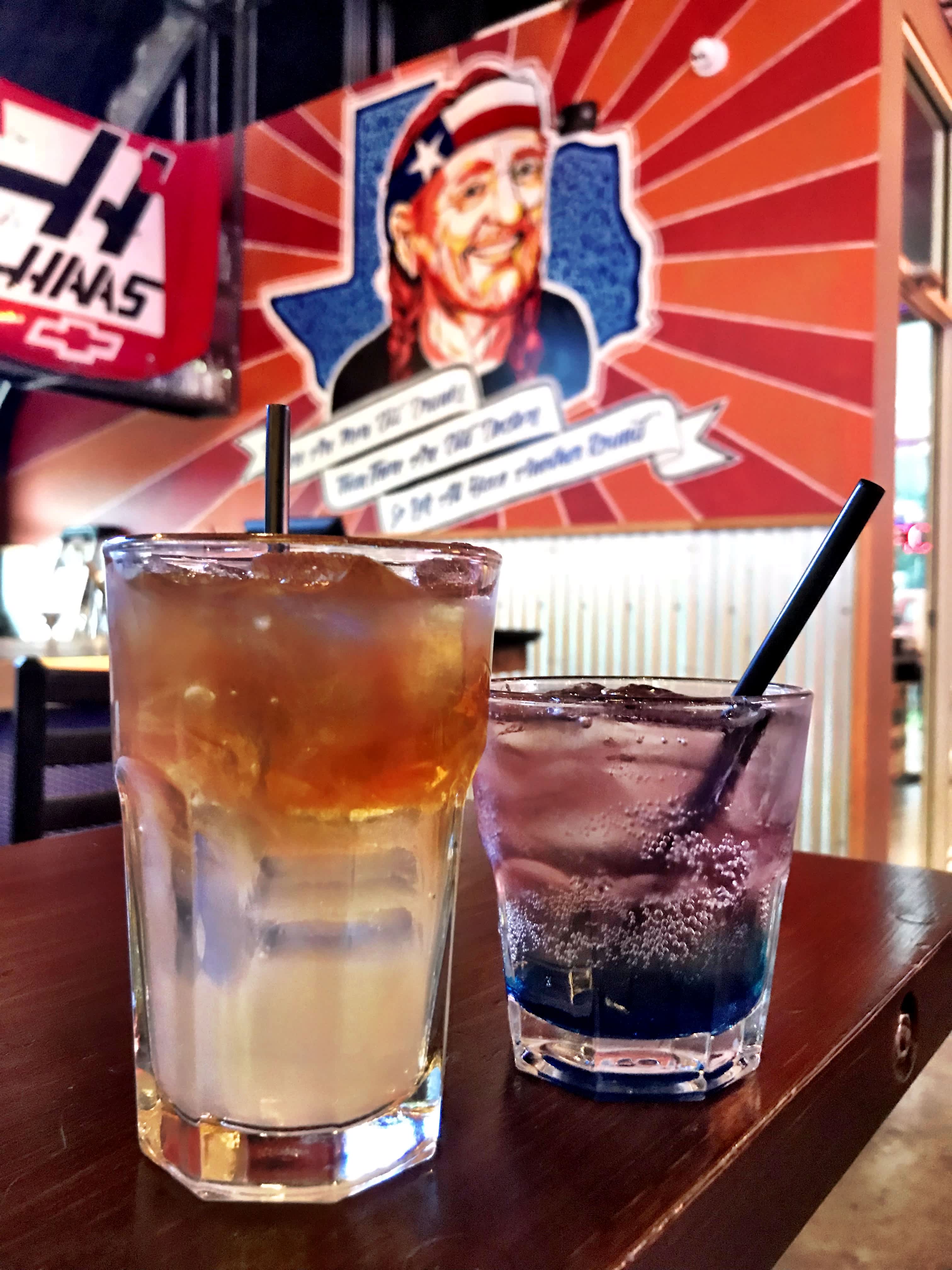 Bomb Buckets
$28/ servers 2-4 people
Model T with Wings
perfet pour of stoli vodka, redbull
Bumble Bee
Bayuo rum, Malibu rum, tropical fruit juice, tropical redbull
Chitty Chitty Bang Bang
Stoli vanilla vodka, cranberry, pineapple, redbull
Custom-Built Classic
Your choice of flavored vodka or call whiskey, any speciatly redbull flavor
Miscellaneous Parts
Stoli Cucumber Mule
Stoli cucumber, fresh lime, ginger beer
$7
Patron Jalisco Spicy Mule
Patron, jalapeno, fresh lime, ginger beer
$9
Classic Patron Margarita
Rock Libations Patron reposado single barrell, fresh lime, triple sec
$9
ChopShop Famous Frozen Margarita
Frozen Margarita with a blue raspberry american born moonshine swirl
$7
Vodka Redbull Slushy
vodka, with specialty redbull
$7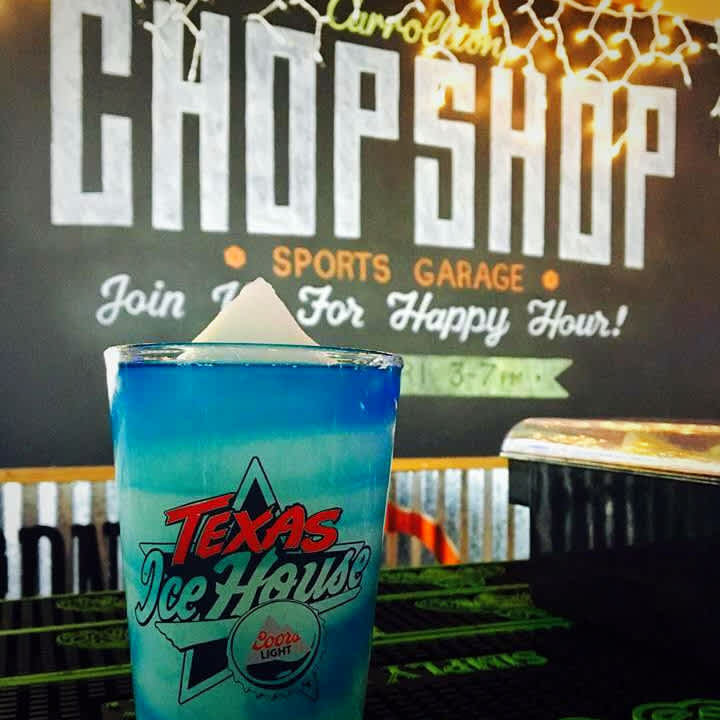 Happy Hour
Join us every Monday through Friday 3pm-7pm
$3.50 Wells
$3.00 12oz Draft Domestic Beers
$5.00 House Red & White Wine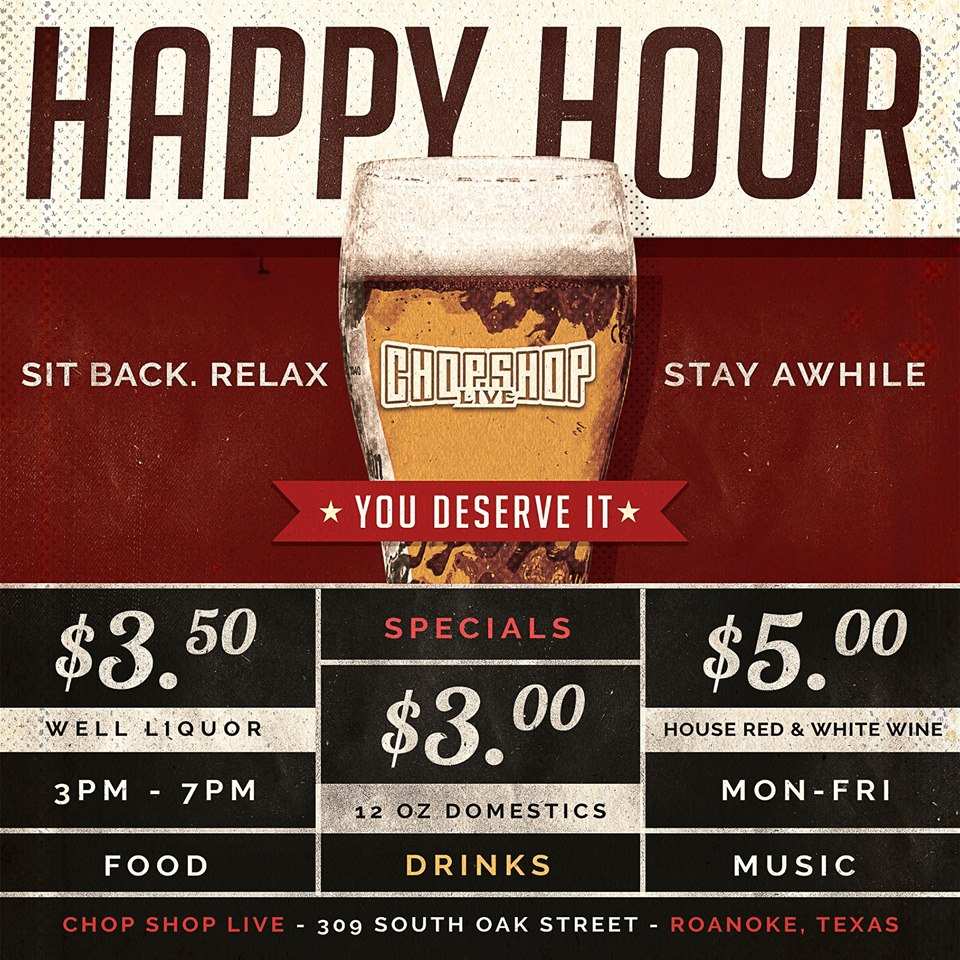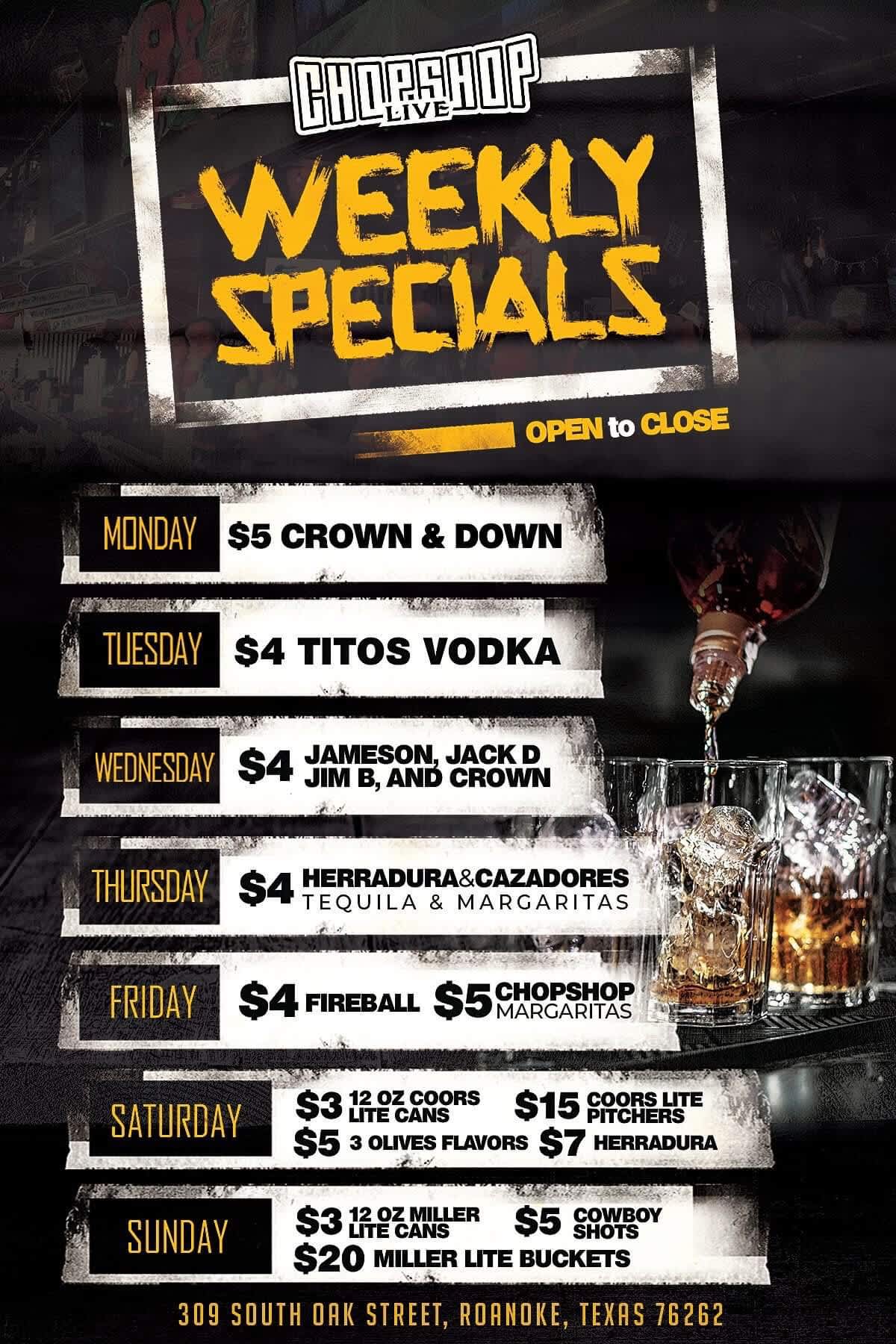 Daily Specials
Mondays
$5.00 Crown and Downs
Tuesdays
$4.00 Tito's Vodka
Wednesdays
$4.00 Jack, Jim Bean, Jameson, and Crown Royal
Thursday
$5.00 Herradura and Cazadores Tequila/Margaritas
Fridays
$4.00 Fireball & $5.00 ChopShop Frozen Margaritas
Saturdays
$3.00 12oz Coors Light Cans, $15.00 Coors Light Pitchers, $5 Three Olives Flavored Vodka, $7 Herradura Tequila
Sundays
$3.00 12oz Miller Lite Cans, $20 Miller Lite Buckets, $5.00 Cowboys Shots