our menu
FOR OUTDOOR/EVENT MENU PLEASE CLICK SPECIALS TAB AND SCROLL DOWN.
All menu items are only offered inside on event nights.
Starters
DAILY SPECIAL: Shiner Braised Brat
sautéed onions on top of a shiner braised grilled brat, served with a side of beer cheese and fries
Boneless Wings
Boneless wings with your choice of 7 flavors. Buffalo, Jim Beam BBQ, Lemon Pepper, Thai Sweet Chili, Cajun Rub, Coconut Curry, or Garlic Parmesan, include ranch or blue cheese.
$8
Crispy Green Bean Fries
Tempura Fried Fresh Green Beans with ChopShop Spicy Mayo
$7
Chicharrones
served with ChopShop Spicy Mayo
$5
Spark Plugs
Pimento cheese stuffed jalapenos, crusted in panko and served with our jalapeno ranch,
$6
Trash Can Nachos
Torilla Chips, bacon, queso blanco, jalapenos, salse, sour cream. Add chicken or beef for +$3
$11
Piston Rings
Tempura fried onion rings served with ketchup
$6.00
Housemade Hummus
Arugula Hummus, pickled red onions, roasted red peppers, arugula, w/ garlic naan, carrots, and celery
$10
Roasted Corn Elote Dip
Roasted corn, cojita cheese, crema, valentina, tortilla chips
$9
Quinoa Shrimp
Quinoa breaded shrimp served with coconut curry
$8
Texas Twist Pretzel Nuggets
Pretzel Nuggets served with beer cheese
$6
PubGrub // Flatbreads
Chicken Finger Basket
Three hand battered chicken strips served with fries and homemade spicy honey mustard,
$12
Shiner Fish & Chips
shiner beer battered atlantic cod served with fries and captains tarter sauce
$13
Suzuki Grilled Salmon
Sweet thai chili grilled salmon served with sauteed green beans and a side salad with choice of dressing
$15
Loaded Mac n Cheese
Grilled pork belly, cojita cheese, panko bread crumbs, red peppers, scallions, creama
$13
Pork Belly Steam Buns
Three steam buns with grilled pork belly, scallions, chopshop spicy mayo, cucumber onions salad
$11
Caprese Flatbread
Pesto, tomatoes, red sauce, basil, mozzarella, parmesan, balsamic glaze dizzle
$9
Buffalo Chicken and Ranch Flatbread
grilled buffalo chicken, red sauce, mozzarella, cheddar, tomatoes, ranch dressing drizzel
$11
BBQ Chicken Flatbread
grilled chicken, bacon, Jim Beam BBQ sauce, mozzarella, cheddarr, flaming tailpipe onion straws
$11
Killer Burgers
Includes fries, can upgrade to tots for +$1 side salad or onion rings $1.50All burgers include lettuce, tomatoes, onions, pickles and chopshop spicy mayo
ChopShop Classic
Add bacon and/or add cheese for +$1
$10
Turkey Burger
Savory turkey patty topped with swiss cheese and onions.
$12
BBQ Texas Twister
beef patty with pepperjack cheese, flaiming tailpipe onion straws, jalapenos, Jim Beam BBQ sauce, bacon, served on a pretzel bun
$14
Straight Pipe Stacker
Pepper jack cheese, jalapenos, bacon mayo, onion ring
$14
The Boss Hog
Half applewood bacon, half beef patty, fried egg, cheddar cheese, flaming tailpipe onion straws
$15
The Buick
Swiss cheese, caramelized onions and mushrooms, sourdough *doesn't include lettuce, tomatoes, raw onions or pickles**
$12
Sandwiches
all sandwiches include fries, upgrade to tots +$1
Concourse Sliders
two mini angus beef patties with flaming tailpipe onion straws, bacon mayo served on mini buns
$8.50
Club Sliders
two club sliders with turkey, ham, cheddar, swiss, tomato, lettuce, bacon mayo, and bacon served on mini buns
$8.50
Nashville Hot Chicken Sandwich
Nashville hot chicken served open faced on Texas Toast with a house cucumber slaw with ranch and fries.
$14
G37 Wrap
Ham, turkey, american, pepper jack, lettuce, tomatoes, jalapenos, bacon, fried egg with chopshop spicy mayo wrapped in a tortilla
$10
Chicken Caesar Wrap
Grilled chicken, lettuce, tomatoes, parmesan cheese, caesar dressing wrapped in a spinach tortilla.
$11
Turkey Cheddar Melt
turkey, cheddar, bacon, lettuce, tomatoes, spicy honey mustard served on a pretzel bun
$10
Pony Boy Grilled Cheese
Sourdough with cheddar, american and swiss cheese. add turkey or ham +$1
$8
Cheese Steak
shaved ribeye, grilled onions, provolone cheese, beer cheese, red peppers, served on a hoagie bun
$13
Salads/Sweets
ChopShop Salad
romaine lettuce, tomatoes, red onions, cheddar, croutons with choice of dressing (ranch, italian, blue cheese, honey mustard, caesar) add chicken for +$3
$8
Quinoa Shrimp Arugula Salad
arugula, green leaf, quinoa shrimp, roasted corn, tomatoes, red peppers, parmesan cheese, ccoconut curry dresssing
$13
Mustang Sally Salad
Grilled chicken breast, tomatoes, cheddar cheese, red onions, lettuce, flaming tailpipe onion straws, Jim Beam BBQ and ranch
$12
BYO S'mores
graham crackers, hershey chocolate, marshmallows, with your own personal camp fire
$6
State Fair Dessert
waffle battered fried dessert changed monthly
$6
Draft Beer
We have many rotating taps so please ask your server or bartender about new beers.
Shiner Seasonal $4.50
Leinenkugeld Summer Shandy $5
Revolver Blood & Honey $7
Revolver Citrus Blonde $6
Revolver Texas Haze Peach IPA $6
Mosaic IPA $6.50
Dos XX $6.00
Michelob Ultra $5.50
Modelo Especial $6.50
Austin Eastcider Honey $6
Stella $6.50
Rahr Dadgum IPA $6.50
Rahr Texas Red $6
Sam Adams Seasonal $6.50
Shiner $6
Dallas Blonde $6
Deep Ellum IPA $7
Miller Lite $5.50
Bud Light $5.50
Coors Light $6.50
PBR $4.50
Blue Moon $6
4 Corner Local Buzz $6
Bells 2 Hearted IPA $7
Lakewood Temptress $7
Firestone 805 $7
Truly Wild Berry $5.50
Kingsville Hefevizon $6.50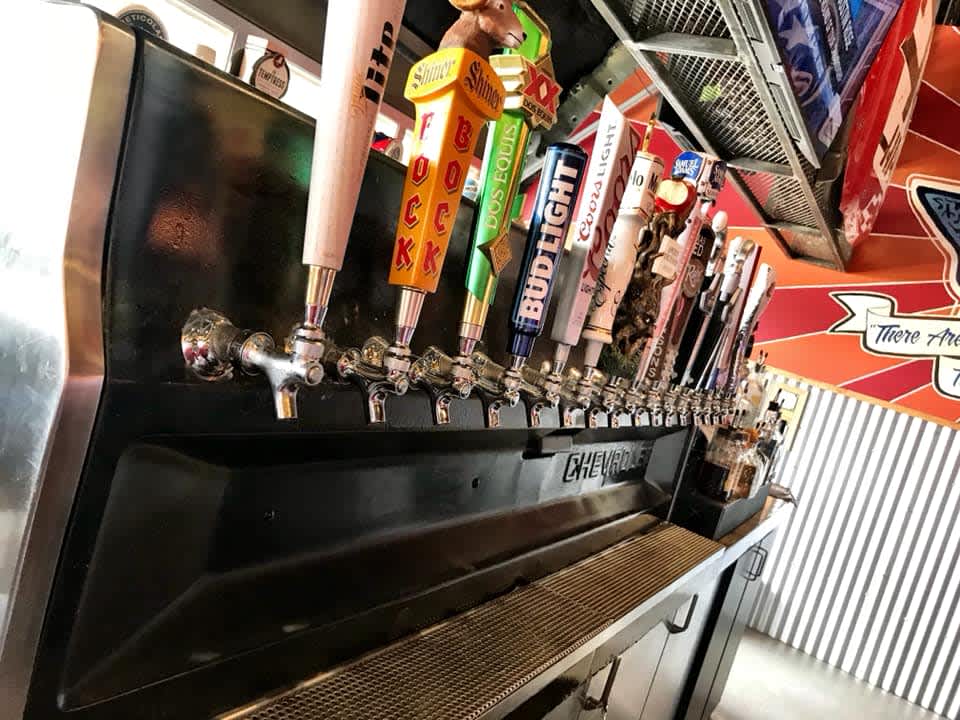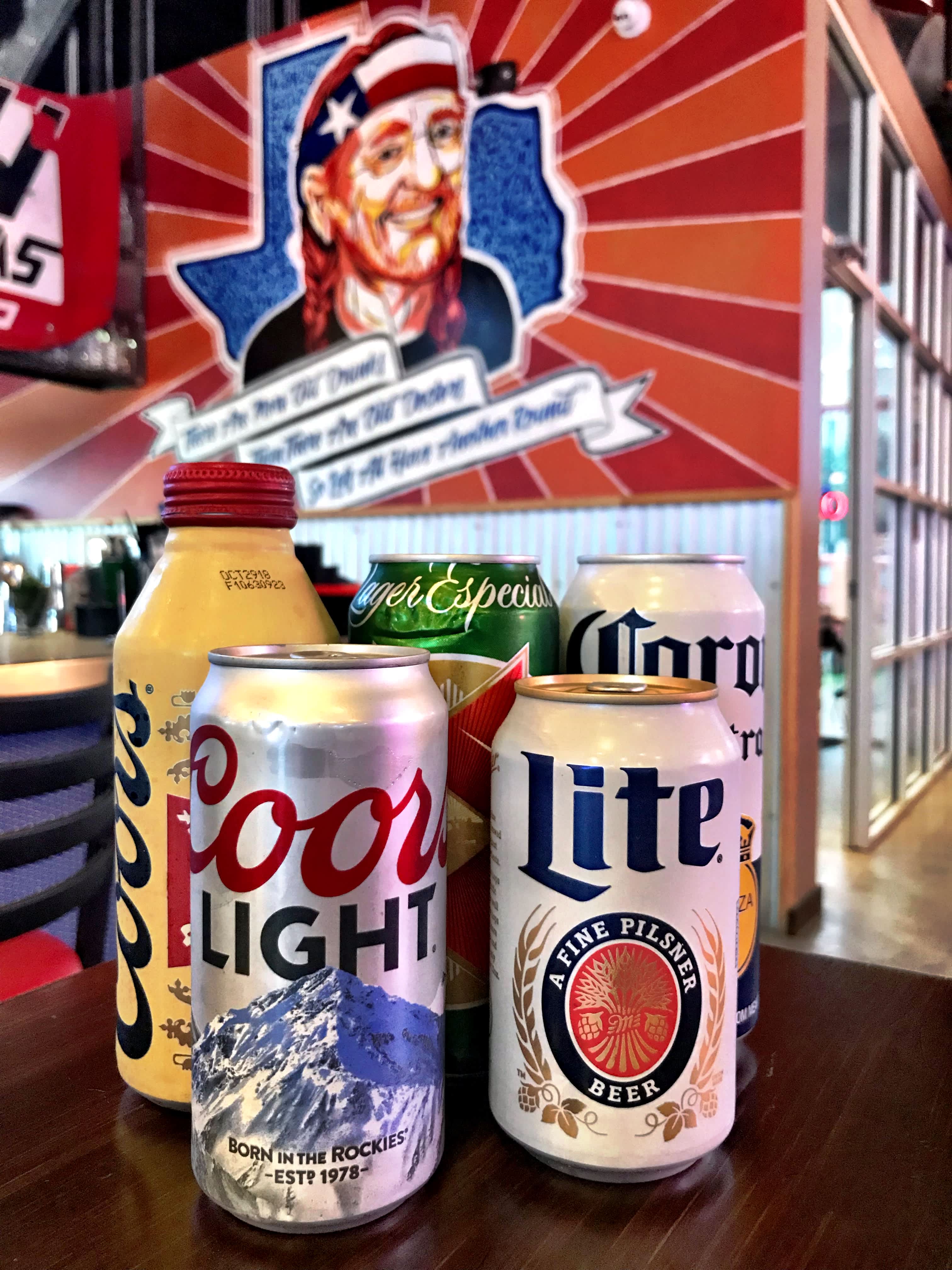 Cans
**prices subject to change on event nights**
Bud Light $5.50
Michelob Ultra $5.50
Miller Lite $5.50
Dos XX $5.50
Shiner $5.50
Modelo Especial $6
Angry Orchard $5.50
Stella $6
Guinness $6.50
Corona $5.50
Coors Light $5.50
Coors Banquet $5.50
Lonestar $4.50
PBR $4.50
Austin East Cider Honey/Pineapple $5
White Claw
Black Cherry & Mango
$4.50
Truly
Mixed Berry & Pineapple
$4.50
Signature Cocktails
Fords Model T Old Fashion
Bellows Burbon, simple, angosture & orange bitters
$7
Green Car
Deep Eddy Lime, Cucumber Vodka, lime juice, soda.
8.50
Red Car
Deep Eddy Lemon, strawberry puree, sweet&sour
$9.00
Purple Car
Gin, Blackberry syrup, lime juice topped with champagne
$9.00
Start Ur Engines
Westersons Blueberry, lime juice, simple topped with Pinot Noir
$8.50
Pitstop Tea
Deep Eddy Peach, triple sec, lime juice, simple topped with Deep Eddy Sweet Tea
$9.00
G8-O-Rade
Deep Eddy Cranberry, triple sec, cranberry juice topped with sprite.
$8.50
Get Up & Go
Deep Eddy Orange vodka, cranberry, redbull
$7.50
Radiator Fluid
Smirnoff Sourberry Lemon vodka, cranberry, sprite
$6.50
Perfect Patron Margarita
Patron Silver, triple sec, sweet & sour, grand mariner float
$10.50
ChopShop Margarita
Sauza Giro tequila, blue raspberry moonshine
$9
Cowboy Shot
Smirnoff Sour Berry Lemon vodka, lime, sprite
$6.50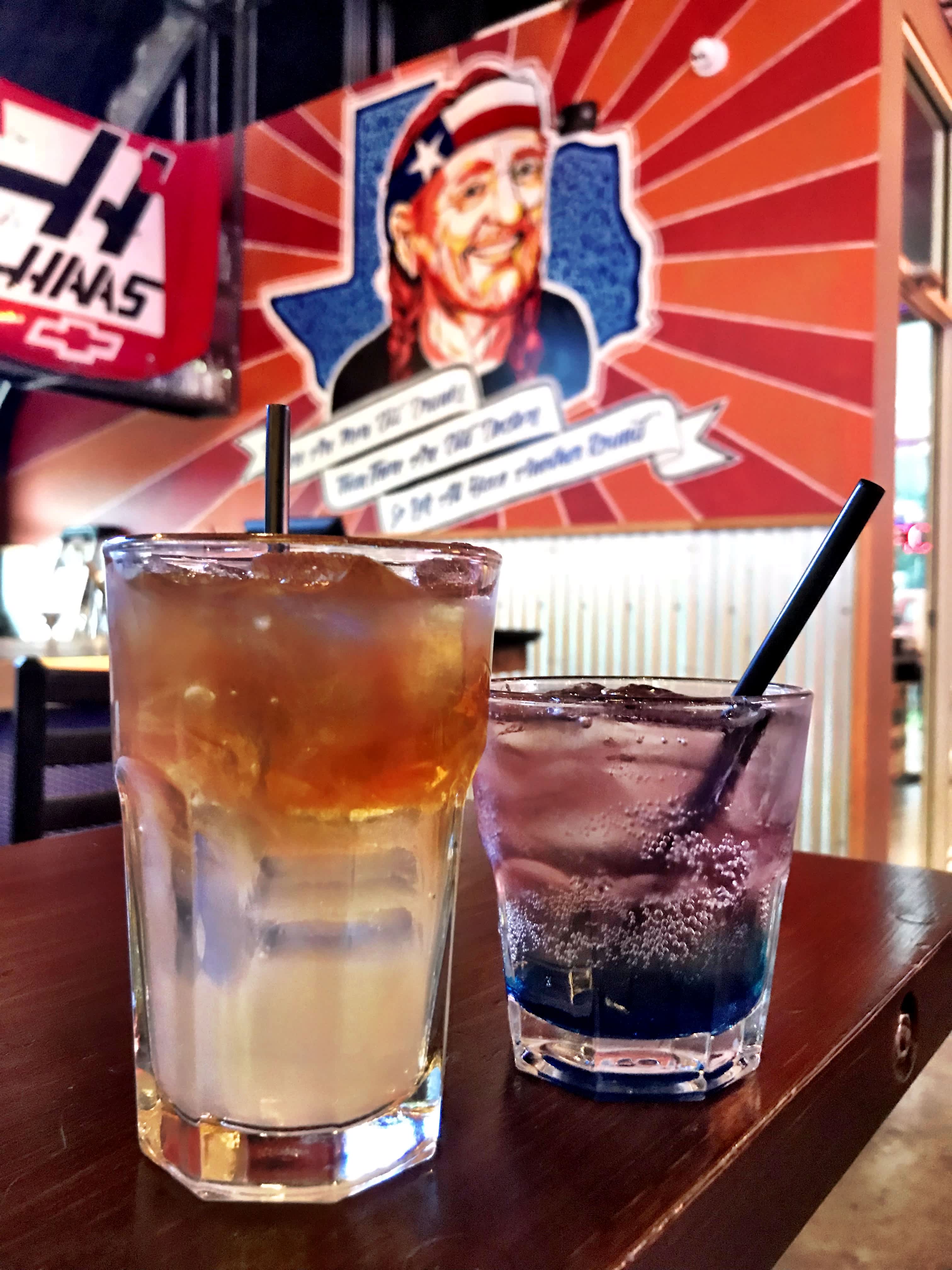 Red Bull Bomb Buckets
$30/ serves 2-4 people
Perfect Pour
choice of ketel one, stoli, deep eddys, titos vodka and choice of 2 redbull cans.
Cowboy Cosmo
deep eddy cranberry, triple sec, cranberry, lime, red/blue cans
Mules
Moscow Mule
deep eddy vodka, fresh lime, ginger beer
$7.50
Texas Mule
Patron, jalapeno, fresh lime, ginger beer
$10
Island Mule
captain morgan, malibu, lime juice, ginger beer
$7.50
Kentucky Mule
bullet bourbon, lime juice, ginger beer
$8.50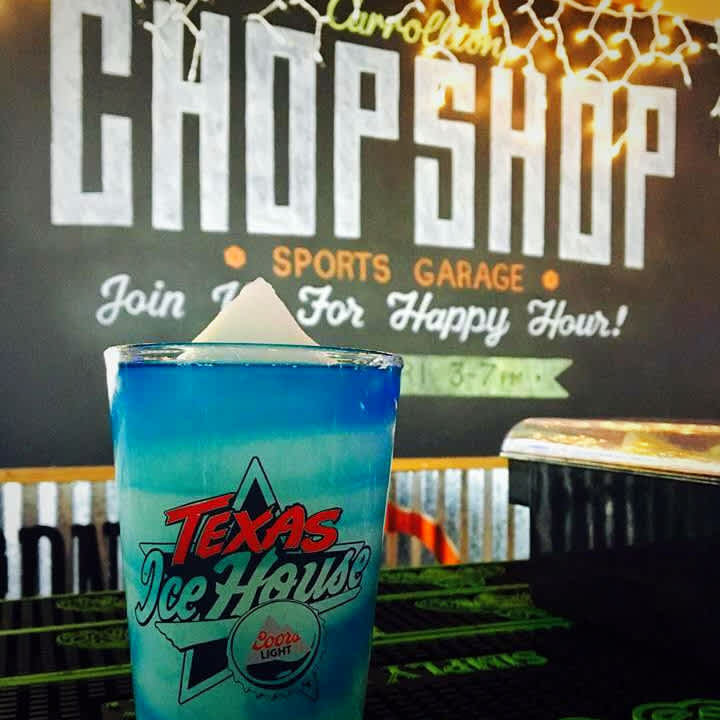 Event Menu
Valid only during event nights outside.
Chicharrons
served with chopshop spicy mayo
$5
Nacho Bowl
queso, salsa, jalapenos, sour cream.
$8
Pretzel Nuggets
served with beer cheese
$6
Chicken Tenders
served with fries & spicy honey mustard
$12
Street Tacos
Your choice of chicken OR beef, pico, cojita cheese, corn tortilla (3 to order)
$9
Chicken Caesar Wrap
served with fries
$11
House made Arugula Hummas
served with garlic naan & tortilla chips
$10
Turkey Cheddar Melt
served with fries
$10
Pony Boy Grilled Cheese
served with fries, add turkey or ham +$1.50
$8
ChopShop Salad
choice of dressing, add chicken +$3
$6